Rimmer Bros Ltd
Triumph House
Sleaford Road
Bracebridge Heath
Lincoln
LN4 2NA
England
Telephone: +44 (0)1522 568000
Email: sales@rimmerbros.com
Web: www.rimmerbros.com
From USA Tel: 1-855-746-2767 Toll Free (During UK Office Hours)
Marques & Models:
Triumph, MG, Rover, Mini, Range Rover, Jaguar '96 on and Land Rover
---
Rimmer Bros Ltd is proud to have Heritage Approval for its Triumph, MG, Mini and Rover SD1 parts operation.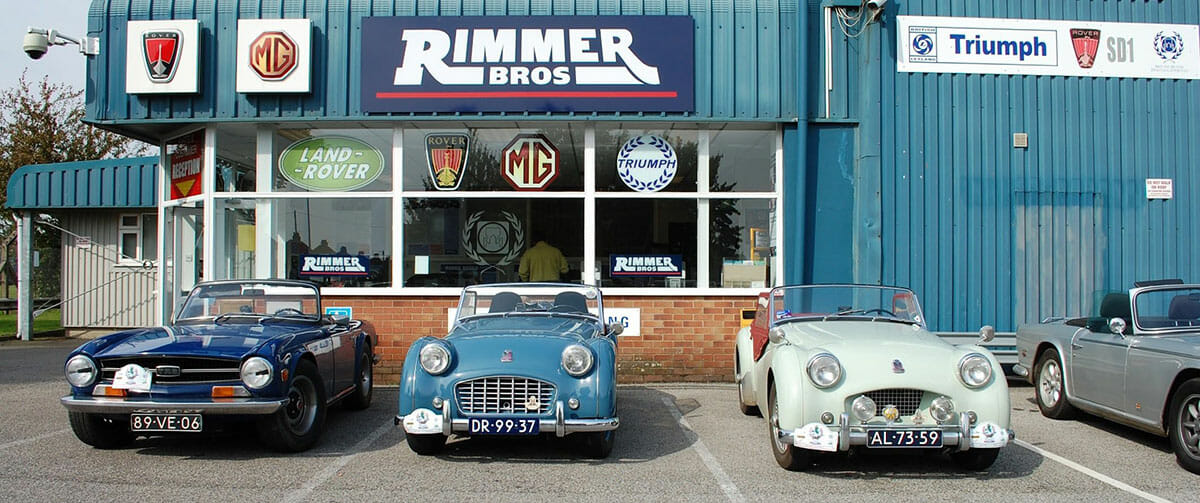 Rimmer Bros is proud to have Heritage Approval for its Triumph, MG, Mini and Rover SD1 parts operation. First appointed in 1987, Heritage Approval acknowledges the highest possible standards of service, product knowledge, financial stability and well-equipped premises. We always carry a wide range of Heritage Original Equipment parts in stock. As a long-established family run business, customer satisfaction is at the heart of everything we do.
Services:
Parts & Accessories.
Retail, Trade & Wholesale.
Industry leading E-Commerce Website.
Industry leading Free, Full Colour, Detailed Parts Catalogues.
Genuine, OEM & Quality Aftermarket Parts & Accessories.
Worldwide Mail Order Delivery.
Click & Collect or Purchase In-Store at our Trade Counter.
Visitor Information Centre & Car Display at our Lincoln Showroom.
Van Delivery Option available for Bodyshells, Chassis
Regular Promotions & Email Newsletters.
Attendance at Major Shows and Events.
Car Club Hosted Visits and Warehouse Tours.
Technical "How To" Fitting Videos.
Triumph: Stag. TR2, 3, 3A, 3B, 4, 4A, 5, 250, 6, 7 & 8. Spitfire MK 1, 2, 3, IV & 1500. GT6 MK1, 2 & 3. Herald 948, 1200, 12/50 & 13/60. Vitesse 1600, 2 Litre MK 1 & 2. Dolomite, Toledo, 1300, 1500 FWD/RWD/TC, 1850 & Sprint. 2000, 2500 & 2.5Pi MK 1 & 2 Saloons. Acclaim.
MG: MGB & MGB GT 1800cc & V8. MG RV8. Midget/Austin Healey Sprite. MGF & MG TF. MG ZR, ZS, ZT, ZT-T & ZT260.
Rover: Rover SD1. Rover V8 engine. Rover P5. P6. 100, 200, 400, 600 & 800. 25, 45, 75 & 75 V8. Metro. City Rover. Montego. Maestro. Mini
Mini: MK 1, 2, 3, IV, V, Saloon, Clubman, Van, Traveller, Pickup
Land Rover: Series I, II, IIA, III. Forward Control. 90 & 110. Defender. Discovery 1,2,3,4,5. Discovery Sport.
Freelander 1 & 2.
Range Rover: Classic, P38A, L322, L405. Sport. Evoque. Velar.
Jaguar '96 on: XK8. XK. XJ. X-Type. S-type. XE. XF.
F-Type. F-Pace. E-Pace I-Pace.
---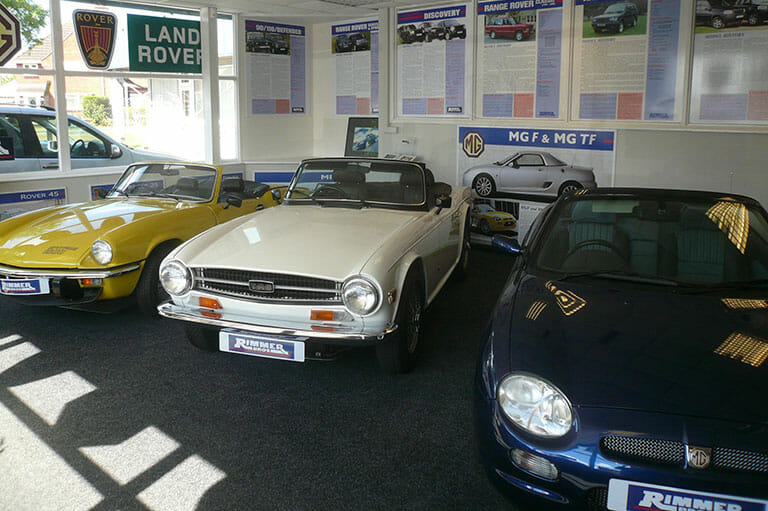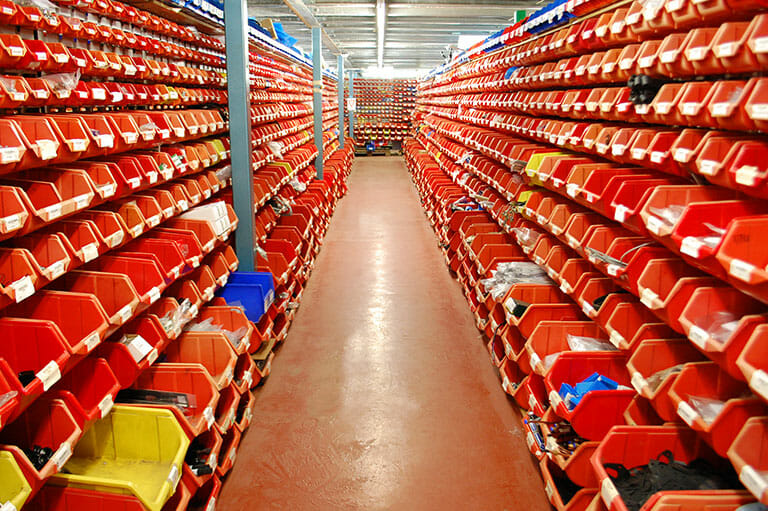 Raised in County Durham and apprenticed as Mechanical Engineers in Tyneside, two brothers, Bill and Graham Rimmer started out by buying, tinkering and fettling their own Triumph Sports Cars. Later, in 1982, they founded Rimmer Bros., which operated from modest buildings at the family home in Lincolnshire. Those were the days when they bought, sold, restored, serviced and provided parts for Triumph, doing all the work themselves – they had no other staff.

The business then grew and many years later, the brothers still own the company they founded -they now have a loyal, expert and hard-working staff of over 85 to keep the wheels turning. Expansion has been continuous, with the company HQ at Bracebridge Heath, near Lincoln, having 105,000 sq.ft. of storage space, tens of thousands of stock lines – over 2 million parts, which now cover the Triumph, MG, Rover, British Leyland, Mini, Rover SD1, Land Rover, Range Rover and Jaguar (1996 on) ranges. For years it has been one of the 'Classic' Industry's leading concerns, which not only offers many parts which can often not be found anywhere else in the world but backs this with an amazing record of over 1,000 combined years of technical expertise, a reputation for high-quality service and for a high-speed response to every request.
As the British Motor Industry has contracted, Rimmer Bros. has grown larger, to ensure that many well-loved classic cars, now out of production and no longer supported by their original makers, can still be maintained, restored, and enjoyed. Whilst support for Triumph Marque continues, during the 1990s the coverage of Rover SD1 models was added, and in the 2000's Land Rover and Range Rover (to now include models right up to date). From 2005, our support was extended to cover more modern MG-Rover cars. In 2012 our range was further extended to cover all Jaguar models from 1996 onwards.
2013 saw the completion of a new warehouse built to the rear of our existing building. It effectively doubled our storage capabilities allowing our bulk Triumph, Land Rover and MG Rover stocks to be stored on one site. We also introduced a production line conveyor system into the packing and despatch building to increase the speed of order processing and despatch.
With the company now well-established, the parts inventory at Bracebridge Heath continues to grow, the technical and service expertise continues to match it, and the company's strategic aim is to improve on that, even further, as space, time, and new marketing opportunities allow.
Wherever possible we supply stock which was originally manufactured for the appropriate Triumph, MG-Rover, Rover SD1, Jaguar, Range Rover / Land Rover models and aim to enhance this with supplies from original tooling and original suppliers. In addition, and where it is appropriate, we also offer after-market and re-manufactured items.
Whether you live in the UK, or anywhere in the World, we always aim to provide the same high levels of service, product quality and customer satisfaction. To do this we not only invest heavily in our stocks, technology and service response, but we make sure that our staff know all about our products and our capabilities. No matter who or where you are, we will always do our very best to satisfy your parts and accessory requirements.
Sign Up for Email Updates