Tex Automotive is pleased to announce that TR6 front wing fitting Kits have been added to their popular fitting kit range.
The TR6 front wings (814016 Left Hand and 814017 Right Hand) and North American Spec after (VIN) CF27001 (XKC1811 Left Hand and XKC1812 Right Hand) have mainly fast assemble Acme threads and we offer a variety on these.
All our fitting kits come with a list of contents and an excellent pictorial representation of where the fittings are placed and how they are assembled.
---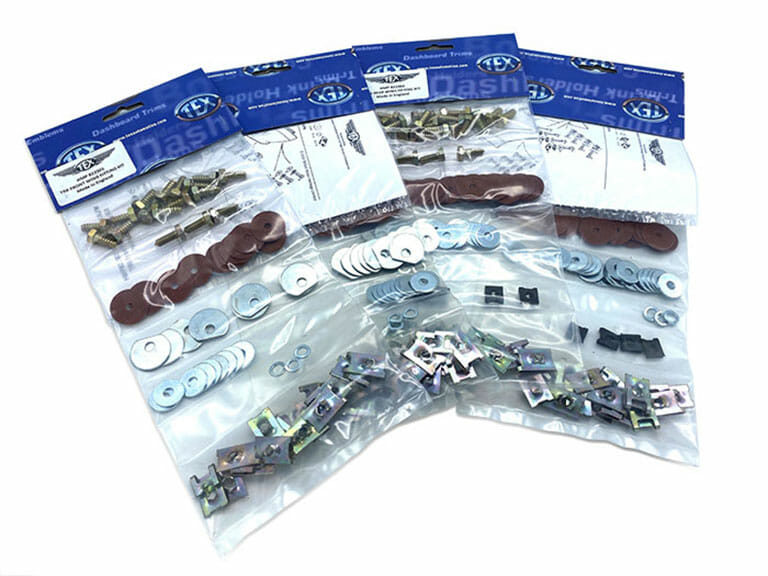 ---
We have had to make some compromises. Some of the washers were originally Everseal (which is a polymer) and we are still in touch with the original equipment manufacturer. Unfortunately, when we approached them to supply us, the minimum number of kilograms of the material which can be made will make in excess of 200,000 of these Everseal washers. For this reason, they are not included in our kits. We have replaced them with a part called 626716, which was OE on some TR6 wing fittings, and it is a fibre washer. We believe it is a very adequate replacement.
The front wing to 'A' post fittings use an HU706P, which has a pointed head screw and the pointed head was fitted to all TR6's originally. The pointed head enables faster assembly.
Along the top edge of the wing where it is fitted to the inner valance are some 'D' washers, part number 623478. We have had to remanufacture these because the product which is available on the market is simply a plain washer with the edge chopped off. This means that the hole is not centrally placed, whereas on a 623478, as fitted to all original TR6's, it was. Ours are manufactured to the correct specification.
The Acme thread bolts (OE number UL2705) are a 1/4 Acme thread and 5/8th of an inch long. Our kits HMP822001& HMP822002 come with the OE spec length UL2705's. However, many people in the TR world will remember a very nice chap called Alan Wadley (full name Alan John Wadley) and he spent almost his entire life working on TR's. He worked in the original London TR Centre in Lexham Mews W8 and then moved to Cirencester and solved many problems which most people thought were unsolvable. Alan Wadley always preferred to have his wing fitting kits with a UL2706, which is the same 1/4 Acme thread, but 3/4 of an inch long. Alan's view was that this made assembly considerably easier.
We offer an HMP822001AJW & HMP822001AJW which are the same kits as the HMP822001 & HMP822002, but with UL2706 3/4 inch long ACME threaded bolts.
---
 Tex has the full range and these are as follows:
HMP822001 – Wing Fitting Kit, TR6 Front Wing
Retail Price £10.00 ex vat
HMP822001AJW – Wing Fitting Kit, TR6 Front Wing with UL2706 ACME Bolt  
Retail Price £10.00 ex vat
HMP822002 – Wing Fitting Kit, TR6 Rear Wing
Retail Price £10.00 ex vat
HMP822002AJW – Wing Fitting Kit, TR6 Rear Wing with UL2706 ACME Bolt
Retail Price £10.00 ex vat
To order, email us sales@texautomotive.com
---
Back To News