BMH are proud to announce that we have cemented our association with the Heritage Skills Academy by employing two apprentices Kieron Trumper & Matt Williams.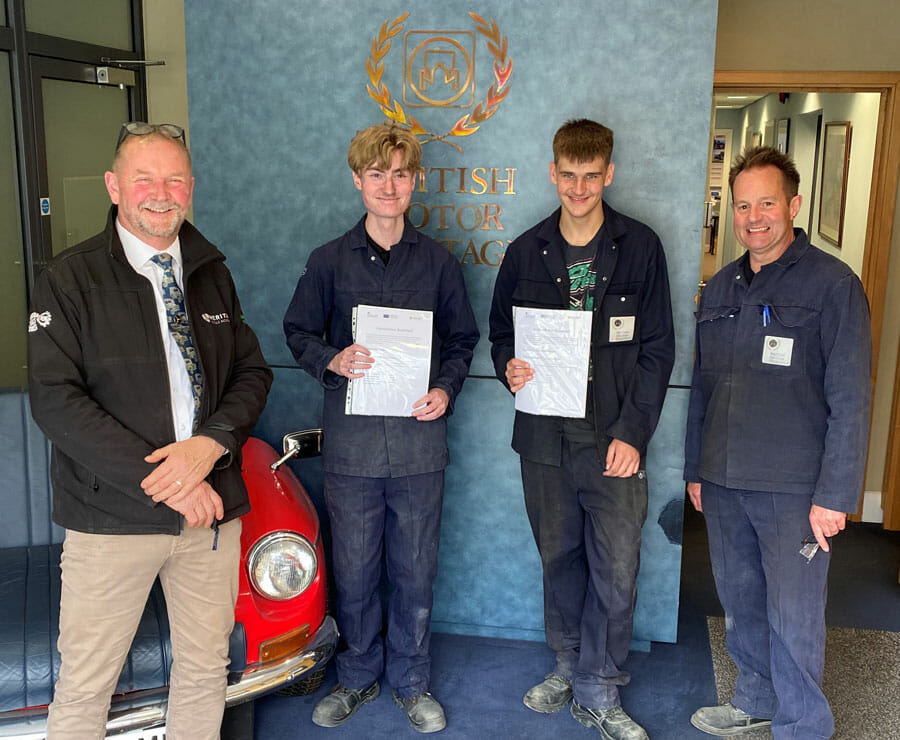 Latest recruits, keen footballer Matthew loves working on cars, so is in his element as part of our team that builds E-Type bonnets for JLR Classic Parts. As a classic car enthusiast, Kieron's only too eager for our uniquely skilled band of craftsmen to pass on the knowledge that's keeping our automotive heritage alive. Both lads are looking forward to starting the Academy course in June.
The craftsmen responsible for building the replacement Mini and MGB panels and bodyshells at British Motor Heritage (BMH) are among the most experienced in the thriving classic car industry. However, new blood is essential if their skills are to be passed onto the next generation, which is why the company appointed two new apprentices earlier this year, and has now enrolled them on the coachwork course run by the Brooklands-based 'Heritage Skills Academy'.
Established in direct response to the demands of Britain's classic car fraternity, the 42-month block release course majors on the traditional coachbuilding skills lacking in modern apprenticeship schemes, but still very much in demand in classic car loving Britain. Said HSA's Development Director Owain Johns: "Our current crop of 150 apprentices includes representatives of many well-known classic car specialists. The companies are great believers in what we are doing and the apprentices love switching between their day jobs and the particular form of education we supply. It's a win-win situation."
British Motor Heritage's Managing Director Graham Payne agrees: "We have been immensely impressed by our two new recruits. Keen footballer Matt Williams loves working on cars, so is in his element as part of our team that builds E-Type bonnets for JLR Classic Parts, while proven classic car enthusiast Kieron Trumper is equally eager to learn from our uniquely skilled band of craftsmen. Add the substantial benefits of the HSA course to all that and I have no doubt they will quickly become invaluable members of our tight-knit team."
We visited the Coachworks department of the Heritage Skills Academy (HSA) that's based within the Museum complex at Brooklands. The HSA provides training in the traditional skills required by the seemingly ever-expanding classic car industry. It was an absolute pleasure to meet the current crop of apprentices who were attacking their tasks with relish. We witnessed them wheeling replacement alloy body panels, straightening crash-damaged steel ones, and spot-welding replacement classic Mini parts on behalf of a restoration project that BMH is supporting. Judging by what we saw, the industry's future is good hands! If you know somebody who see seeks a related career, check out www.heritageskillsacademy.co.uk.
---
Back To News