---
Somerford Mini are one of the largest Mini Specialists in the UK.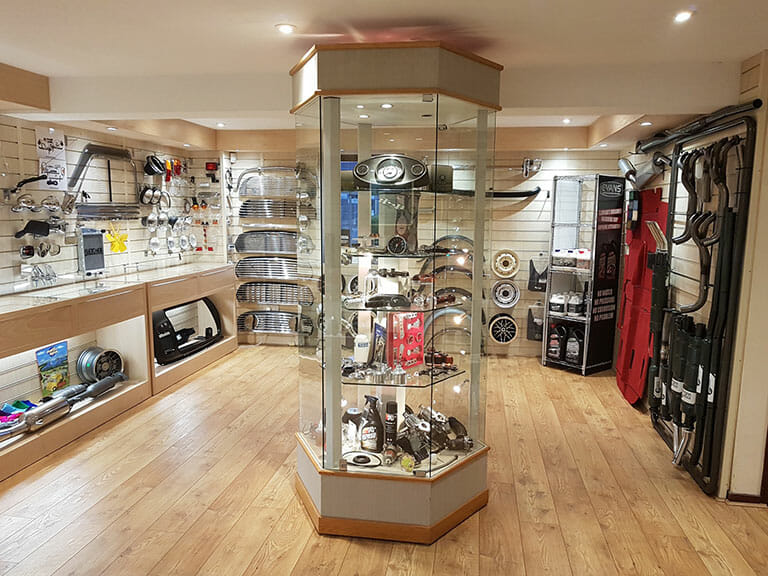 Parts Supply
Over 15,000 spare parts for the Classic Mini.
Restoration
Refurbishment
Service/MOT
Full Service and Report
Ramp Inspection "Full Health Check including Mechanical and bodywork" + written report.
Catalogues
PDF or hard copy catalogues can be ordered via our
Interior Trim & Upholstery
Full details of interior trim can be found on our website
Other Services
Engine rebuilds, engine tuning or engine servicing,
re-shelling to a Heritage bodyshell, gearbox rebuilds, re-trimming of all interior trim, modification, electrical work, race preparation, anti-corrosion rust proofing, brake fluid checks, suspension geometry checks and set-ups, sand blasting, steam cleaning, valeting etc., all of which are at very competitive prices.
---
Our aim is to be a 'one stop shop' for any Classic Mini owner. We can achieve this by having both full Workshop facilities and massive Parts Department, coupled with a collectively experienced and knowledgeable team of staff. Our stock of parts is continuously increasing, and we are very active in reproducing parts where the originals are no longer available. We only stock quality parts and will always advise a customer to use genuine parts wherever possible. Although many of our parts are of genuine Rover manufacture, we do try to cater for all budgets.
We encourage customers to be involved with restoration and refurbishment projects, either by visiting our workshop or by keeping in regular contact. This ensures that the project exactly meets customer's requirements, and it gives the customer a heightened sense of achievement.
No body work is undertaken without first providing a written estimate. If a customer accepts this, we then consult our schedule and offer a slot for the work to be carried out. This is allocated to one customer only and will not be changed. We never stop work to accommodate another customer and then continue later.
Our method is one man per job from start to finish! This is the most efficient way of working and ensures the maximum concentration and effort is focused on your car.
Sign Up for Email Updates